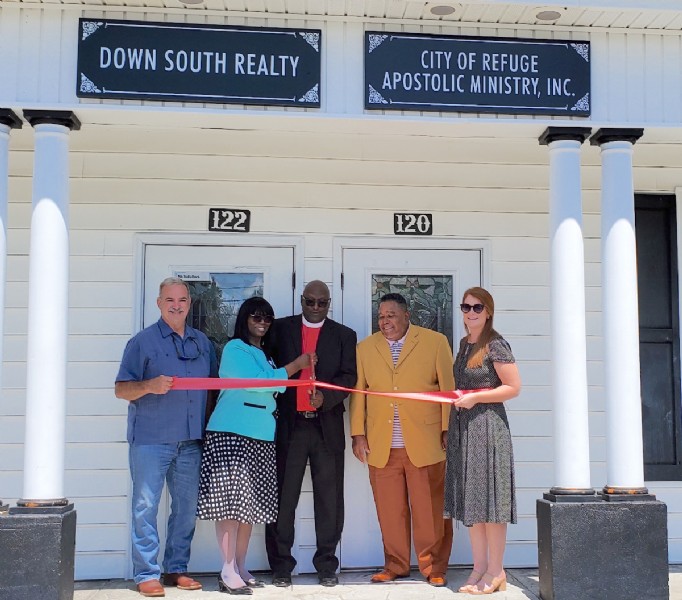 City of Refuge Apostolic Ministry, Inc. was founded by Bishop Bobby L. Harris, Sr., and was incorporated in February 2016. Shortly thereafter, Bishop Harris began conducting bible studies and prayer in the family home. In August 2017, services were moved to the Best Western Conference Center in Creedmoor, North Carolina. In September 2017, City of Refuge was blessed with a building and moved to 120 West Church Street in Creedmoor, North Carolina, where services are currently being held. The first charter members were Sis. Willia Mae Barr (deceased), Sis. Kimberly McNeil, Sis. Ashlee McNeil, Sis. Tabitha McDonald and her children.
City of Refuge's name was revealed to the "then" Minister Harris while he committed himself to a 12-month sabbatical dedicated to prayer, fasting, and meditation on God's word. City of Refuge's theme scripture comes from Psalm 91:2, "…He is my refuge and my fortress:  my God; in him will I trust." 
Since inception, many changes have occurred at City of Refuge. On August 2, 2017, Elder Harris was ordained at the 61st International Holy Convocation of the Pentecostal Churches of the Apostolic Faith International, Inc. (PCAF) in Louisville, Kentucky, where Bishop Lambert Gates, Sr. is the presiding bishop. City of Refuge became a member of the North Carolina District Council of the PCAF on December 5, 2017, where Bishop Otto Richardson was the diocesan bishop. City of Refuge remained in the PCAF until September 15, 2019, and subsequently became affiliated with the Christian Apostolic Fellowship of Churches International, Inc. (CAFOCII) on October 23, 2019, where Bishop Paul M. Capers is the presiding bishop. Additionally, City of Refuge became a member of the Granville County Chamber of Commerce on May 20, 2021.
Elder Harris was confirmed as district elder during the Inaugural Holy Convocation of the CAFOCII on November 22, 2019, and he was later consecrated as a bishop on June 18, 2021, during the 2nd Annual Summer Convention held in Islandton, South Carolina, where he became the first diocesan bishop for the state of North Carolina and the assistant general secretary. 
The leadership of City of Refuge Apostolic Ministry, Inc. believes that the experiences of its members can have an impact on the community in which it serves and that we are responsible for preparing our members, not only for Heaven, but to be productive and contributing members of society.